Novel info
Hellbound With You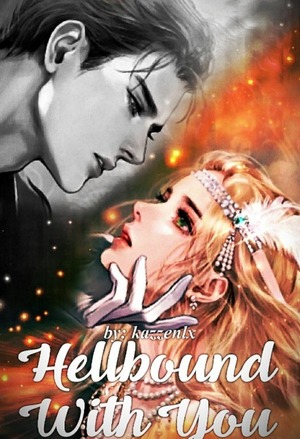 "I love you, despite the danger signs."
...
"Let me tell you this. You're standing before the gates of hell right now. Doing this means ruining your life. Are you ready to step down to hell with me?" his eyes blazed. A warning was burning within it and Abigail knew he was more than serious and that the danger was real, but… every time she thought about her future, was there anything scarier to her at this point? Wasn't she looking for something like this? For a man like this?
As the silence dragged on, the man's lips curved up into a triumphant, mocking smile and his hand landed on her head. He ruffled her hair and leaned in on her.
"Hell is not a good place, at least for a little lamb like you. I'm sure you're aware of that. Now run away while this demon king is still being nice and calm." He whispered.
And then, he turned to leave, so casually, as if nothing just happened. But after three steps, the girl stopped him again.
"The hell you're talking about..." she mumbled, "I… I'd like to see it for myself… Take me there."
...
Abigail is a beautiful oh-so-innocent lady. She is kind and well mannered but she is terminally ill. She knows she will die soon so before she dies, she wants to fulfill her one and only wish - to fall in love. She wants to experience loving someone romantically. But under one strange condition- she wants a man who will not fall in love with her because she doesn't want him to suffer when she's gone. She met Alexander Qin, the coldhearted and mysterious man. He warns her from the start that he doesn't do love and that he is dangerous. But that made him the perfect man for Abigail. He was exactly the kind of man she was looking for.
Alexander will start to teach the innocent Abigail about his kind of pleasure while Abigail will show him the joy of doing simple things in life. Their completely different worlds collide, Abi's illness and the mysteries about Alexander will slowly be revealed. Can Abi handle his own kind of hell? Can Alex handle her light?
...
He handed her an egg-shaped, pink vibrator and then returned to his spot.
The girl blinked again as she examined, with deep curiosity, the pink egg-shaped thing in her hand.
"Don't make me wait. Put it inside," the man ordered and Abi swallowed.
Abi had no idea whatsoever as to what this thing was. She had never seen anything like this before. She wanted to ask him what this thing was and what he meant by 'put it inside' but the man was so serious, she was afraid she'd fail the test if she showed him that she didn't even know what this was.
"Is this clean?" was what she asked instead and the man half-smiled.
"It. Is. Very. Clean." He stressed out every word.
Still unsure about what to do, Abi hesitantly looked at him and then in the next second, she put it inside her mouth.