Novel info
Manuscript Screening Boy and Manuscript Submitting Girl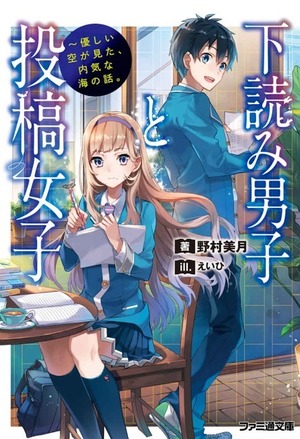 Manuscript Screening Boy and Manuscript Submitting Girl
Rating:

8.7

/

10

from

162

ratings
Alternative names:

Manuscript Screening Boy And Manuscript Submitting Girl: Watched Over By The Gentle Sky, The Story Of The Bashful Ocean, Shitayomi Danshi To Toukou Joshi, 下読み男子と投稿女子: 優しい空が見た、内気な海の話

Author:

野村美月, Mizuki Nomura

Genre:

School Life, Slice Of Life, Romance, Drama

Source:

Kadokawa Shoten

Status:

Completed
READ NOW
"Just once, I want to make it through the first stage of screening…"
"Please, teach me how to write a novel."
The ordinary high school boy Ao, is actually a manuscript screener for a light novel newcomer competition. One day, he found the work of his classmate, Hiyuki Hinomiya among the submissions sent for his screening.
The aloof girl known as the 'Ice Maiden' actually wrote a light novel with fonts varying in size and onomatopoeic words for a contest! The surprised Ao started giving advice to her work after this unexpected event.
He gently guided Hiyuki who was hurt by the screening criticism. The world background, character setting, story structure and other issues were progressing smoothly, but…
A bright youthful content creation story begins!